"In the Great debate about Direct Mail V Email "One of the great myths in business and specifically in marketing departments is that print is dead. Many believe that direct mail was killed on the birth of the internet. In fact, the majority of studies show that direct mail offers a superior marketing channel."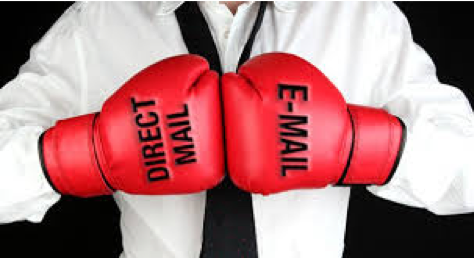 Online technology has allowed us to communicate faster than ever. In the digital age, email tops the list of many people's preferred way of communication, mainly because it's faster than letters – or even phone calls.
So, in a world where digital communication can get massively confused by new social media platforms that launch on a daily basis, with email, instant messaging,  Facebook, Instagram, Twitter, Google+,  Pinterest, Linkedin,  Snapchat,  Reddit,  GoodReads, Tumblr,  Myspace,  Imgur,  Faceparty, Vero, YouTube,  WhatsApp, Tik Tok, Skype, Flickr, Vimeo, Foursquare and Medium to name just a few of the more popular, the question for marketing departments is "is there still a place in the marketing mix for the personalised option of a direct mail letter?"
Yes, direct mail can be slower, but it still has huge benefits to offer businesses.
But like all forms of marketing communication, there are basic fundamentals that you need to get right – such as the message, targeting and timing.
It's also worth noting that there are no set formula or rules. Both direct mail and email marketing own their own space in the client's life. Some work better for different people, sectors or demographics.
In fact, you would often support taking a mutual approach using both. If you've got the message right in one medium, delivering it in different ways can be an influential sales persuader.
Email marketing
In 2005, the Royal Mail reported that 6.17bn direct mail letters were sent, reducing to 4bn by 2012. Forecasts predict a further downturn resulting in around 3.1bn being sent by 2023.
Comparatively, prior to GDPR, in 2016, 115bn emails were sent per day. The ability of being able to send the same email to thousands of subscribers in seconds has seen direct mail numbers dwarfed.
However, one of email marketing's supreme strengths – its immediacy – can also be its most significant weakness. Email can be short-lived and people generally make a snap decision to open or delete it within seconds (research by the Direct Marketing Association found that 51% of emails are deleted within two seconds).
In addition, spam filters are now so sophisticated that there is no guarantee your cleverly written email with a great call-to-action, will end up in the right inbox, if it doesn't it's a wasted effort and will never be seen by the targeted recipient. To help ensure emails reach your recipients, you should spend significant amounts of time on improving your email deliverability.
GDPR and the requirement of companies to obtain an opt-in reduced emails volumes dramatically, however with the threat of fines for breaches of GDPR not being as prolific as expected, companies are again resurrecting old databases to try their luck with higher volumes of unsolicited emails.
Despite the spam filters and the likelihood of a 2 second delete, there's no doubting digital marketing is an influential medium offering the potential to communicate with large numbers of people on a wide range of platforms. It is also easy for people to reply by simply clicking on a link that sends them through to a website, offer or more information.
However, as an instant medium it can just as quickly fall by the wayside. A recent survey found that only 44% of people could remember a specific brand straight after seeing a digital advert, this rose to 75% of people able to recall a brand after receiving a direct mail piece.
Furthermore, a recent report from the Direct Marketing Association revealed that the average response rate for direct mail is over four times greater than that of email marketing.
It's correct that a direct mail campaign will almost always need a higher budget than an email campaign, but those costs do need to be put into an ROI perspective. Consider how much a new order or new client can spend with you, the cost of postage and paper seems irrelevant in comparison.
The power of something tangible
Digital marketing may seem more interactive and instant, but the material feel of a letter shouldn't be underestimated, as it gives the receiver something to hold on to and come back to.